When adding a contact to Mapview you have two options: to add a contact directly to the map or to add a contact from the contact list view. If you add a contact directly from the map the address will be pre-populated so you do not have to type it in.
Adding a contact via the map
To add a contact using the map, press and hold on the location where you would like to add the contact. Then, choose the contact details icon from the menu options. Enter the contact information and tap 'Save'.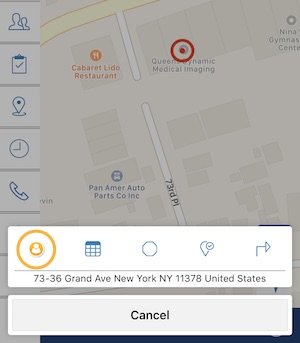 Adding a contact via the contact list
Start by opening the main menu and choosing 'List By Name'. Next, tap the (+) icon in the top right hand corner. Enter the contact information and tap 'Save'.
Creating custom field labels
While creating a contact you can add custom labels for fields. In the example below I created one record to represent the account, but added multiple phone numbers with labels representing my contacts.
To create a custom label, simply tap on the label next to the field. Scroll to the bottom of the screen and choose 'Add Custom Label'. Enter the label value and return to label list.