Mapview now has a category feature to help users organize their groups. Found under "Filters" from the main menu, categories appear with a blue background, while groups appear in white.
When upgrading to Release 7.9. How will my current groups appear?
Current groups will appear under preset categories of:
General (local): Groups created within Mapview or Titles of CSV files you previously imported into Mapview.
External (Apple Contacts App) if you had synced the group from an external source such as iCloud or Outlook.
"Column Heading Name" (local) if you had created the group through the spreadsheet import process .
You can continue to use your groups as you had previously. The category feature is simply a new overlay that can be used for future organization.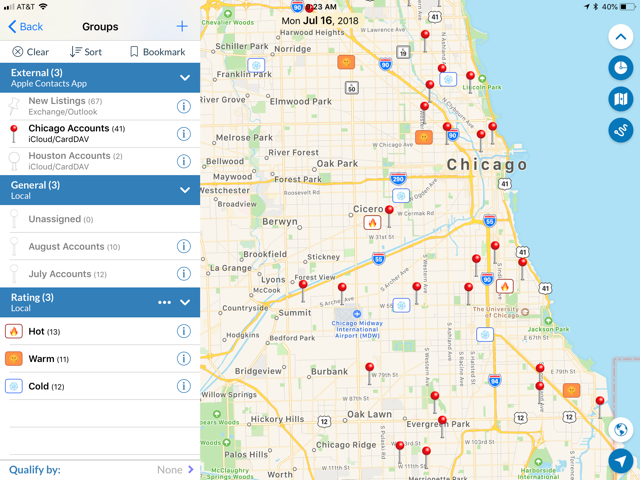 Groups action icons
Clear: Clears the display of all pin groups from your map
Sort: Sorts all groups within all categories alphabetically
Bookmark: Saves the current group display under the name you enter. At any time you can go back and tap the bookmark icon and select your preferred group display.
Tap "+" to add a new group or category
If you are using categories to organize your groups, you must set up the categories first and then assign groups to your categories. Please note: Groups can only be added to Categories when the group is originally created.
To add a new category
1. Enter the category name in the text field
1. Select the category type
Single vs Multi-Select Category types
By default, categories are set up as multi-select. You may change the category option at set up to single select. Single select allows for only one group to be assigned to a record. For example, if the category "Rating" is set up as a single select, a record can only ever be Hot, Warm, or Cold. If a contact is initially set up as Hot, then assigned to the Warm group, it is automatically removed from the Hot group. This feature is intended to help you keep your groups error-free.
Category lists can be expanded or collapsed by tapping the arrow to the right of the category name. Once you create a category, you then create groups to be part of the category.
Categories created in the app (Local) can be edited. Categories created via spreadsheet import or labeled as External cannot be edited. To edit a local category tap the more options icon ( … )to the right of the category name.
To add a new Group:
To add/create a new group in Mapview tap the "+" sign at the top right of the Group window and select "add group." Then, choose a category for your group. If you do not wish to utilize categories simple select "General (local source)." Enter the group name, assign a pin, and choose contacts now if you wish. 
 

Editing Groups
Edit groups by tapping the info button to the right of the group name.
Edit Options
Groups created in the app (Local) and by spreadsheet import:Users can edit contacts assigned to the group and the pin style/color
Groups created and labeled as External: Users can edit pin style and color. Any other changes to External groups must be done in the source program, such as iCloud or Exchange.
Prioritizing Groups
Groups can be prioritized within their category by dragging and dropping them in the preferred order. If a record belongs to multiple groups it will display the pin assignment of whichever group is listed first within its category.
Groups, Categories, and the Spreadsheet Import Process
• The name of your CSV file becomes a group denoted as General (Local).
• Any groups you create in the spreadsheet import process are organized into Categories.
• For a group created within the spreadsheet import process to merge into an existing group the column heading (Category) and field name (Group) must be exactly the same, and the text is case sensitive.